21 December 2022
Yvette's puppies are making their squeaky puppy noises in their whelping pen, as they nurse in the middle of this night at 3:48am.  She's a first timer and very much likes my being in the room with her, whether I'm sleeping on the floor, sitting with her doing her hair or helping her endure a marathon nursing session.  The first three weeks are easy on me, as the mummy dog does the 'heavy lifting' and my job is to support her, manage her mammaries and keep her in top condition (including potty breaks every three hours and daily presentations of frozen loin lamb chops grilled to unseasoned rare perfection).  While I couldn't ever pull an all nighter in college or on New Year's Eve?  Just watch me, when we have puppies in the house.  It is an enchanting experience to share with a non verbal mammal.  And every time?  It enhances the quality of the relationship I have with that unique animal.  The bond changes quality and we become more in tune with one another.  I swear, these girls LOVE that I help care for them and their little ones.  They appreciate my being there for them.
When I designed this house in which we live and raise the Kensington Tibetan Terrier puppies up here in Stowe, Vermont, I did so with my passion in mind.  Breeding and raising Tibetan Terrier puppies is among the most wonderful things I've done in my life.  It pretty much tops the list, including dinner with Eddy Merckx & Ugo DeRosa in Italy, flying to the White House by personal invitation as a woman business owner in support of nationalized health care in 1993 and my incredibly exciting years doing bankruptcy turnarounds for troubled sporting goods manufacturers.  All were great experiences and part of the color of my life.
But living with Tibetan Terrier puppies and adults is a privilege that many do not know.  This is an intelligent and empathic breed; one to be protected and nurtured.  They thrive when offered security, love and variety.  That variety includes social interaction, change of place and a diet including raw vegetables, some fruits, high quality kibble and fresh water.  In return?  You can expect foot warmers in winter, someone at your feet in the kitchen while you're prepping for dinner and an athletic companion comfortable at elevation in snow or on a clean sidewalk in suburbia.
Today, this December 21st, my little pack and I are enjoying the lights and sounds of the Christmas holiday season in snowy Stowe, Vermont.  I am listening to the 'men of the night', as they remove snowbanks from the village with their funny John Deere equipment that always beeps, when in 'reverse'.  It is a comforting sound to me, as I appreciate how these wonderful people take care of me and us in the coldest and snowiest season.  Normally at 3:48am, I'd be snuggled and warm upstairs in my bed.  ASLEEP.  But with litters in the house?  My girls set the rules and I follow their lead.  All I need is one little bark and I know it's potty break time or the kibble dish is empty or someone just wants a belly rub & a break from those little mouths.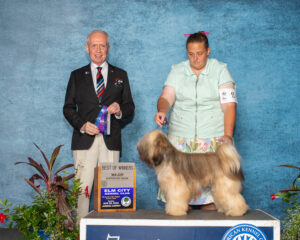 We have some beautiful examples of the breed, living in this house.  Thanks to Tashi and Guinness, we have sable, jet black and genetically tri colored puppies with their brown fannies that I'm raising for Kensington's newest peeps.  These puppies will be ready for their forever homes in February 2023.  Everyone's personal story is unique and I love working with folks who have 'wish lists' for what they seek in their next Tibetan Terrier.  Most of the peeps with whom I work are already in the breed and that makes things that much more rewarding for me; I provide my best and they appreciate & understand what's unique about a Kensington kid.
There will never come the day when I'll be able to breed and raise enough puppies for the folks who come asking for a Kensington kid.  There is only one of me and these animals excel because of the quality & amount of one on one care & stimulation they get from yours truly and the aunties & uncles in the house.  Every breeder does it their own way.  Some breeders use Puppy Culture.  Others don't.  Some breeders live with many dogs.  Others live with few.  Regardless of the differences among us?  All responsible breeders do their best and each one deserves respect for that.  This is a challenging commitment where peer support is invaluable and we are always there for one another.
So, as we enjoy the fellowship of this traditional holiday season, please give your furry pal a few extra ear scratches from us here at Kensington Palace.  It is the season for gifting one another and I hope that means that you've splurged on Stella & Chewy's patties, Polkadog cod skins and other nuggets, Ethical Pet collagen based dog chews and maybe even have made some doggie treats from scratch.  Raw carrots, broccoli stalks and mango are a HUGE favorite up here.  And my dogs will go for ANYTHING that's been exposed to chicken stock, too.  If you've never dried anything before, you might like to try making sweet potato 'chips' for your furry pal.  I use a mandoline and dry them slowly on top of my AGA.  I know there aren't a whole lot of AGAs in this country – but – you CAN set your oven on 'warm' or 150°F and make naturally sweet and healthy chips that will bring out the red in your dog's coat – or not!
Be safe with your decorated trees – don't let your holiday guests feed your doggies off of the dining table, please – and remember to set your dog up for success this holiday season.
A good walk outdoors is ALWAYS the best!  Both before and after dinner.
Happy Holidays, Happy New Year and thank you for your support and inspiration.  It is ONLY because of you that I can do this for us.
Yours truly,
WB.