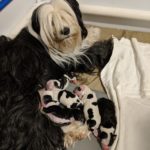 Well, may I say Happy New Year and Happy Spring to all!  It has been quite a while, since my last post and with good reason.
We raised three litters of Kensington Tibetans during the Fall of 2018 and they were my entire life focus – I barely left the house!  Fortunately, we were extremely well organized, the litters were timed each one week apart from the next – and – MOST IMPORTANTLY, I have the most wonderful friends, fans and doggie au pairs who support and help me achieve my goal of exceeding the expectations of both myself and my forever families, with the puppies we breed and raise.  A HUGE thank you goes out to each of them and they know who they are.  ;>)
Now, I wanted to address the above topic, as I don't know that the world understands the difference between having a breeder raise a puppy for a family vs. buying a puppy from an ad in the paper or a pet store.  And, certainly, sometimes breeders use ads to broadcast the availability of a litter and that option is a bit of a cross between the two options I want to address.
In my experience, my family 'got puppies' three times during my childhood.  Two were German Shepherds (both female) and one was a Boxer (also a female).  The Shepherds proved to be reasonably predictable in temperament, although one was a little skittish.  But the Boxer?  She had no consistency in her behavior whatsoever.  And it gave me the opinion that we got 'lucky' with one Shepherd – but the other two family dogs were nuts.
Perhaps that is why I searched for a pure bred dog in my adult life and my first was a Lhasa Apso.  He was a puppy out of litter whelped in a horse barn and no one seemed to know who the sire was – but I liked him and took him into my life as my companion.  It was an introduction to that breed and my experience wasn't ideal.  While I fancied myself to be a fine animal trainer, having worked with other dogs (and parrots), his temperament did not seem to be the least bit flexible.  Had I known better or had the option?  I would have opted for a puppy with what I describe today as a more 'chill' temperament; a 'watcher' with a self-entertaining orientation.
'Benjamin' was eventually re-homed to a family with a farm and four daughters.  Benji needed lots of humans, as he was a stimulation junkie – and I needed a companion who could self-entertain in his or her crate, while I worked 9-5.
Eventually, I found myself 'in the market' for another dog.  I knew I wanted a pure bred but was unsure of the breed.  So, I spent some hours with a dog encyclopedia and determined that the Tibetan Terrier sounded like a great fit for my lifestyle as an athletic married businesswoman.  We had many people in our lives, both professional and amateur athletes, employees and their families, not to mention friends and family!  In 1992, people with litters placed ads in the Boston Sunday Globe and that is how I found the breeder of my new puppies.  She let me pick the puppies out of two available litters – and I sat with the puppies for an hour and chatted with her about what I saw and what I liked.  When I got home, my husband asked me how it went and I told him that I'd found a male puppy I thought would be terrific, as he was a great sleeper.  Can you imagine?  THAT was my most obvious character attribute and the one that swayed my decision.  I figured that if he was a good sleeper, he'd be less demanding as an adult.
Amazingly, that turned out to be true.  But unexpectedly?  My husband told me that we needed TWO, as if we had only one?  That single puppy would be 'lonely', during the day.  He was used to two dogs in his childhood and so, off I went – back to the breeder.  I chose a white female, as I thought the two puppies looked 'cute' together.
Well, many things happened and my life changed dramatically, during my 15 years with those two Tibetans.  They turned out to be THE MOST WONDERFUL ATHLETIC COMPANIONS and they had lovely temperaments, thanks to their breeder and their bloodlines.  I got really lucky, as I had no clue what I was doing.  I thought I did – but really?  I selected the second puppy because they looked 'cute' together?  Good God.  What would I say now to that idea?  Let's not go there.  ;>)  But they do look 'cute' together, don't they?  Mr. Snappy Tux and Ms. White Ball Gown.
When you have a puppy bred for you, you work with someone who has considerably more experience in the breed than you do.  The ideal dog breeder is very careful, honest, responsible and experienced.  Generally speaking?  Folks who breed dogs who are not careful responsible breeders don't offer the same quality in the puppies they 'offer for sale'.  Their puppies are usually less expensive and for a reason.  No genetic testing.  No AKC titles.  No understanding or care of whether the sire and dam conform to the Breed Standard.  And often, inconsistently cared for and unclean.
When you work with a careful, responsible, experienced breeder?  They may hold back the privilege of you selecting your own puppy – but this is a good thing.  They will take into consideration your level of experience in the breed, your lifestyle, the make up of your family, the level of activity in your home lifestyle, whether you have a fenced yard or not, whether you live in an apartment/condo or a standalone house AND your personal philosophy with regard to what is important to you.  Trust me: no breeder wants to take a puppy back who is older and, perhaps, requiring remedial training.
When you work with a careful, responsible, experienced breeder?  They may not have a puppy available to you at that particular time and you might have to wait.  But they will be there to answer your questions, both before and after you've brought the new puppy into your home life – because they and we and I am committed to the long term emotional and physical health of every puppy we breed.  We all do our best to raise healthy, well socialized and fine examples of the breed to whom we've devoted our time and upon whom our reputations rest.  And we will NOT pair an inappropriate puppy with an ill-prepared human, as it is neither careful nor responsible.
My peeps submit applications that give me a bird's eye view into their home lifestyles and quite a lot of information about their experience with dogs and what is important to them.  Based upon that application, I decide whether one of my puppies would be a good fit for them – or whether it makes more sense to refer them to a different breeder for any of a number of reasons.  Just because you reach out to a breeder with puppies doesn't mean that you'll get one.  However, if you reach out to someone selling puppies who is neither careful nor responsible?  Chances are you'll get a puppy – and maybe even your 'pick' of the litter.
My peer breeders and I spend a lot of careful thought individually evaluating the puppies in a litter.  Pairing a puppy with a human has absolutely nothing to do with whether the puppy is 'cute' or not.  Don't we tell our children that 'beauty is more than skin deep'?  Well, the same is true in the canine world.
So, should you find yourself in the situation with a friend who might be considering 'getting a dog', do encourage that person to do some research, both into the breed and into the breeders of that breed.  Suggest they look at the AKC Breeder Referral page.  Your investment of time will pay off with the best puppy for your personal situation.