We had a fascinating day, yesterday, here at Kensington Tibetan Terriers.  Mac & Teddy (Coppi x James, November 2011) are boarding with us – and Oliver, Georgie Girl and Billie Jean are in permanent residence.  So, we have five adult Tibetan Terriers in the house and a play date scheduled with fifteen week old Abby (nee Vivi), one of Georgie Girl's puppies from her December 2014 litter.  And we have a question: Does the mother dog remember her puppies, after they've left and gone to their own forever homes?
Abby has been working with her humans, as well as Elissa, a dog trainer from Zen Dog Training.  She can 'down', 'sit', 'roll over' and comes to her name being called by anyone.  Remarkable!  and a fine example of how smart this breed can be.  She is sweet & gentle in disposition – and respectful, when meeting new humans and dogs.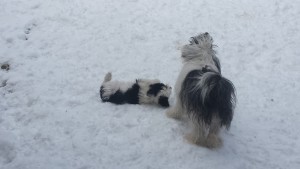 Anyway, Jodi, Joe and Abby arrived around noon and we brought the puppy up to the upstairs living room.  It is clean and isolated – good for social experiments!  Abby knew me immediately and when Gigi came in, they seemed to recognize each other immediately, too.  Abby rolled onto her back in complete submission and Georgie began this very funny play jumping up and down and side to side over the puppy's body.  Along with play movements with her snout, in a dance.  I'd never seen anything like it.
Next, I removed Gi and brought Billie Jean in, instead.
The play behavior was also immediate but totally different in style.  It was subdued 'normal' TT play behavior, as if in recognition and evaluation between the two girls.  Once they were clear that they knew each other, the play became more athletic.  After a few minutes, I removed Billie and thought it might be time to take Abby outside into the fenced-in dog play area, along with its two feet of frozen snow.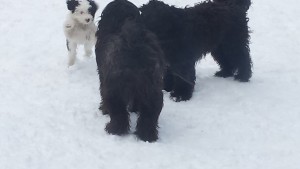 We brought Abby out and reintroduced her to Georgie.  We saw the same style of interaction between them out in the snow, as we had indoors.  Ten minutes into the play, Georgie became less interested and the puppy stood up and began an exploration of the area on her own.  At that point, we brought Billie out – then, Mac and Teddy out and Abby was ready for action with these older and larger boys!  Here you see her, flying through the air and hoping to goad one or the other into a chase.
Abby has her first day at puppy school in a couple of weeks and we think that she is PERFECTLY ready to meet other puppies, now that she's proven her maturity with a pack of Tibetans – and had her last course of puppy shots.
And the answer to the question?  Yes!  This mother dog does seem to remember her puppies, as well as the other way 'round.