The importance of AKC Championship titles
21 December 2022
Our sires and dams travel the AKC Conformation circuit and work toward earning their AKC Championships (and Grand and Bronze Championships) under the dedicated and talented handling of professional handlers.  Wendell Sammett handled our first Tibetan Terrier in 1992; Mark & Pam Desrosiers finished our Champions between 2007 and 2017; and now, Rebecca Bradley shows our Kensington Tibetans in the ring.  Becky has finished Koko, Questa, Lillibet and Yvette and has put AKC GRCH titles on both Piccolo and Questa.  Becky recently put a Silver GRCH title on Questa and he was the #6 US TT in 2021.  He and his mother GRCHB Billie Jean both competed at Westminster in February 2019 where Questa earned his first Award of Merit ribbon and medal.  Whoo hoo for us!  Our first Westminster success!  He subsequently earned his second Award of Merit at Westminster in 2021.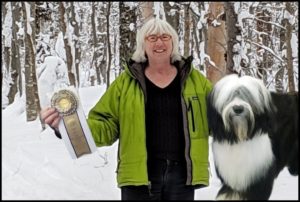 It is extremely important to me to submit our Kensington-bred TTs to an impartial jury of Non-Sporting Group judges for objective scrutiny and comparison against other Tibetan Terriers within the breed standard.  When Kensington dogs finish their titles, it is with the stamp of AKC approval that defines them as exemplifying the breed standard and capable of maintaining or improving the overall quality of future Tibetan Terriers.
GRCH Kensington's L.A. Noir, Aussi
My mentor Nina Wagner said something to me in 2015 that I've not forgotten: 'Keep a bitch out of Ziva.'  Funny.  I thought the same thing and kept GRCH Kensington's Pic, Pic, Piccolo!
Ziva is a second generation Kensington-bred Tibetan Terrier and our fifth brood bitch.  She is a titled Grand Champion and has whelped three litters.  She is our 2nd Grand Champion (Oliver was first, Billie was the third, Piccolo was the fourth and Questa is our fifth).  Ziva's handler Mark Desrosiers described her as 'lovely' and very much the 'type' we look for in the Tibetan Terrier standard.  She is a solid, strong 'genetic tri' with great bone, a profuse coat and she measures 15 1/2″ at the withers, right within our 14-17″ breed standard.  Ziva is totally chill and LOVES to play.  She will roll over on her back for a belly rub from you, when you visit.  Ziva loves humans and we are very much enjoying having her home with us.  She was recently bred to Beckham, Shadeacre Fast Love at Kensington (an outcross to Alilah and Waterley lines) and we are expecting puppies in mid October 2019.

GRCHB Kensington's 1st Dance with Michael
Our gorgeous Billie's puppies have been strong, handsome and happy.  She skipped a season, so that she could compete at the Westminster Kennel Club Show in February 2017 and was bred in December 2017 to Kensington's Sweet Baby James.  We got three gorgeous boys and I kept Tahoe who is registered as Kensington's Questa o Quella?  Billie left again for the circuit on October 20th, 2016 to earn her Grand Championship title and earned the 1st Award of Excellence at the Eukanuba/Royal Canin AKC National Show on December 17th, 2016.  This has been our second most prestigious Award of all time – our best award was Questa's Award of Merit at Westminster 2019.  Billie's lateral movement is absolutely beautiful and her angulation is very nicely matched, front and rear.  She is very sweet, intuitive, communicative and highly intelligent.
Here is a show photo of Gr. Ch. RinChen's Blazing Black Icon: Billie, Annabel, Chewie, Moseley and Whittaker's sire.  Michael was the #1 Tibetan Terrier in the USA in 2013, the year we bred our Coppi to him.  His kids, Whittaker, Annabel and Billie have all participated in our breeding program and were sire and dam to our two 2015 litters, Gigi to Whit and Billie to Oskar.  That's my mentor Nina Wagner, pictured on the right (in the photo on the right) and holding the award certificates for RinChen's Michael at our Bay Colony Club Specialty in 2014.  And that is Mark Desrosiers, handling Michael.  Sadly, Nina passed away on October 23, 2016.  I miss her every day – but I was gifted with my pick of her three brood bitches and so, I still have a part of Nina in my daily life through my Koko-loko, daughter of Kodi – a Brady girl.
Kensington and Shalimar Champions are routinely used in our breeding program and occasionally, we use Champion studs from other breeding programs where both kennels will benefit from the lines being brought together.  In April 2016, I imported two wonderful Swedish princes from Kennel Shadeacre.  One is Beckham, Shadeacre Fast Love at Kensington.  While my mission is to produce the healthiest and most intelligent animals for our forever families, beauty and conformation to the Breed Standard are also important attributes I keep in mind.  And would you look at that coat?  Fantastic!  That is our boy Beckham's sire, Moses.
Kensington Tibetan Terriers are known for their fine temperament and athleticism.  Shadeacre Kennel is known for coat, strong bodies and beautiful movement in the show ring.  Puppies from GRCH Kensington's L.A. Noir, Aussi to Shadeacre Fast Love at Kensington are highly anticipated in 2019 by both myself and Markus Gisslen, breeder of Beckham.
CH Shalimar's James of Kensington
James was my foundation stud dog.  Izzie was twice bred to James and Coppi was also twice bred to James.  (These were my first two Champion brood bitches,  mother Izzie and daughter Coppi.)  James' temperament was warm, gentle and caring.  He was a maternal male and Questa is showing signs of being quite like him (through his grandmother, Georgie Girl's sire).  We are proudest of James for having helped his human forever dad through speech therapy after a mild stroke.  James listened to every word read to him by his human dad, as though he understood the stories and regardless of pronunciation.  My heart glows, every time I think about what a good boy he was, for so many reasons other than his performance in the show ring.  While AKC Conformation Championship is very important to me, it is the special joy experienced from the human/dog bond that drives me in my breeding program and keeps temperament (and genetic management) at the forefront of my strategic thinking.  Although James has crossed the Rainbow Bridge, his blood line comes through Georgie Girl, as they share the same sire.  Now, we have Yogi.  He is out of Whit x Georgie Girl and has sired more than fifty puppies, including three Conformation Champions: Piccolo, Questa and Yonpo's Madigan.
CH Shalimar Izzie of Kensington

Lucky me, I get to visit Izzie every few months in another Vermont town or at Mutt Hutt, her mum's grooming salon in Waterbury Center, VT.  Izzie was my foundation bitch and is now retired & living an athletic life of luxury.  She got really lucky and was invited into a forever home with one of the puppies from her third and last litter.  Izzie is very social, loves human interaction and summer holidays.  She turned thirteen in July 2019 and has earned her Therapy Dog Certification.  I can't imagine a sweeter animal to help bolster the spirits of a human.  Izzie's blood lines come down through Ziva and Billie, as both are Izzie granddaughters – and soon, through Piccolo and Questa.
GRCH Kensington's Oliver Twist
Oliver was my pick from our first litter of eight puppies, back in 2009.  His was a breeding of Izzie to James, my foundation pair of Champion TTs.  Alice Smith was there, thanks to a phone call from Nina Wagner, as I needed some coaching, moral support and loved the idea of a breeder with such lengthy experience as Alice, willing to be with me through the night.  And my dear friend Annette was also there with us, helping me and helping the pups.  We had good fun coming up with working names for the little ones.  Even Lizzie came down from Vermont with Lily and Daisy to help.  It was our first litter and a village affair!
Oli was incredible in the ring, down in Florida.  He earned his Championship with four Major wins under four different judges in eight days.  There was only one show that he didn't win.  And he was only nine months old!  He went on to earn his Grand Championship and has since been re-homed with a wonderful couple living in Princeton, New Jersey.  It was hard for me to give him up at 8 1/2 years of age, but I can't live a 'well adjusted' life with more than four or five animals in the house and so, when this lovely couple dropped out of the sky and into our laps?  I knew that if there were ever to be an alternative forever family for Oli?  This lovely couple were the folks with whom I trusted him to live out the rest of his life.  I still send care packages with sweet potato chips that I make here in my AGA and always send him an old toy, that smells of home.  ;>)
CH Coshan Mother's Little Helper

Gigi is a pixie of a bitch who is smart, communicative, EXTREMELY athletic and the best mummy dog we've had yet.  She is barely 14″ at the withers and weighs 18 pounds.  Georgie Girl, as she is affectionately called, whelped her first litter in 2014 (GG x Oskar), her second litter on August 4th, 2015 and her third and final litter on 18 April 2016.  Georgie is bright eyed & watchful and retired three years ago to her new forever home with Johanna and Bernie in Concord, Massachusetts and Naples, Florida.  She adores blanched haricots verts, Stella and Chewy's patties and goat's milk yogurt.  We kept Yogi (who lives in the Catskills with his humans Cheryl and Chris).  He is a proven stud with great coat, great rear and terrific temperament.  He is out of Gigi's second litter in August 2015.  And a lovely friendship has come out of this story, too.  I get to board Gigi for ten days every summer and Bernie makes a mean dirty martini for me, when I join him and his lovely bride for dinner, usually at least a couple of times each and every summer in Concord, Massachusetts.
Champions Koko, Coppi, Oskar, Whit, Annabel, Questa and Piccolo!

There are seven other Champions in our Kensington pack: Koko (CH Kensington's Nouvelle Mlle. Koko), Coppi (CH Kensington's Copper Goddess), Oskar (CH Shalimar's Zacchariah of Kensington), Whittaker (CH Kensington & Shalimar's Iconic Whit), Annabel, Billie & Whit's littermate (CH Rinchen's Style Icon of Kensington), Questa (GRCHB Kensington's Questa o Quella?) and Piccolo (GRCH Kensington's Pic, Pic, Piccolo!).
Coppi has retired to a lovely home on the beach in Kittery, Maine, after whelping four litters, and Oskar is still active in our breeding program, but living with his own forever family in Burlington, Massachusetts.  Whittaker was used as a stud his first time in June 2015, in a breeding of Georgie Girl x Whittaker.  Cheryl has Yogi James, a boy puppy from that breeding who has been used several times by me and a couple of times by Maureen Dwyer of Yonpo.  Whit lives with his forever family who split their time between Stowe and Montreal; a handsome big red brindle with a gorgeous head and lots of bone.  His humans do a great job with his grooming, something that must be addressed, if you're thinking about keeping your TT 'in coat'.  And Annabel joined the Kensington pack in Vermont last summer.  She was bred in January 2018 to Yogi and has since retired to a lovely home on Lake Champlain.   Enjoy this photo of me with Bellie, on a trip two years ago to visit my friends at RinChen and deliver a second Kensington puppy to a wonderful forever family in Colorado.
These are our Champions and we love every single one of them.  With every year comes at least one more Champion.  2017 was our first year with a Kensington Grand Champion at Westminster.  She is Billie Jean, GRCHB Kensington's 1st Dance with Michael.  Here in Stowe, we made the paper.  Everyone was rooting for the 'home girl'.  Born and raised in the historic village of Stowe and our first Kensington girl to hit the ring at Westminster.  It was a very exciting time for us.
Earlier last year, we had Koko-loko in the ring with Rebecca Bradley.  Koko won two Puppy Group 1st place wins, on her way to having earned her title in February 2018.  One of her Major wins included winning over three male Champions for BOB and WB.
Piccolo returned home in February 2018;  Questa is still out with Becky and continues to defend his 2019 US National Top 10 position.  I hope to introduce Campari, our next CH-to-be in Springfield, Massachusetts this fall in the 4-6 month puppy class.
These are our Kensington Champions, to date.  I love them all!  They leave paw prints on hearts and my tile floors, even more than paw prints in the show ring.  ;>)