Visit us in Stowe, Vermont or join us for a play date in Massachusetts

15 May 2017
Welcome to Kensington Tibetan Terriers!  We are pleased that you've found us.  At this time, deposits are closed for our June litter, although we might find that we have a puppy or two available, once they 'hit the ground'.  It is my hunch that we will have puppies whelping ~ 10/11 June.

We have another breeding planned for next month.  If all goes as expected, we should have puppies arriving in August and ready for their forever homes sometime around Columbus Day 2017.  Applications are available and deposits are being accepted for this fall litter.  Please let me know, should you like to introduce yourself for consideration.

RECENT NEWS:

Our lovely Billie Jean performed beautifully at the Westminster Kennel Club show in New York, this past February 2017.  It was our first (and probably, last) Westminster show and an incredible ride.  To be shown in a field of such terrific animals was a privilege and something I'll never forget.

Billie moved beautifully and looked fresh.  It is still very exciting to me to have bred an animal who's gotten this far, in limited showing.  Now, we are pleased as can be to report that Billie earned her Bronze medal in March 2017.  That takes 100 Grand Championship points, after the Grand Championship title has been earned.  Without Mark Desrosiers, our professional handler, this would not have happened, as I am not good in the show ring.

I only wish my mentor and good friend Nina Wagner (of Shalimar Tibetan Terriers) were still alive to whoop and holler with me.  Nina passed away on October 23, 2016 in Massachusetts, having somehow fallen victim to mesothelioma cancer.  I look forward to helping Nina's sister continue the Shalimar breeding program that Nina worked so hard to develop.  Nina mentored me and it will be my pleasure to share what I've learned with her sister, Linda, and act as a sounding board as she takes her journey down the path of working with TTs.

PUPPIES!

Our forever families often have to wait for a Kensington Tibetan Terrier, as we are a small breeding program.  Our normal protocol includes ultrasounds and XRAYs, front and rear dew claw removal, thorough 'Day Two' and nine week vet wellness exams; first course of DHPP shots; a ten day course of Albon; wormings with Nemex II at 2, 3, 4, 6, 8 and (sometimes) 10 weeks; car training, crate training and lots of interaction with a variety of humans and older Tibetan Terriers.  Everyone's on Interceptor and so, the possibility of heartworm in ANY of our animals, pups or adults, has been eliminated.  Oliver, the dramatically marked black and white dog in the rotating photos above, is our resident 'Mr. Manners'.  He ensures that all puppies learn to approach with caution!  And I think he actually has fun growling ferociously at the young puppies, so that they learn that unknown doggies aren't necessarily as nice as their mum.  ;>)  By the time the puppies are twelve or thirteen weeks?  He's dropped that 'Mean Mr. Mustard' disguise and, instead?  Loves group play and a good romp, especially with the girl puppies.
SHOW UPDATE:
For those of you more interested in the show scene than puppies, here is another photo of Billie (Gr Ch Kensington's 1st Dance with Michael) with her Westminster handler, Karen Mammano.
People have been encouraging me to show my own Bred Bys in the ring, but I have always felt uncomfortable. I didn't grow up 'in dogs'.  I grew up with European parents and spoke three languages, by the time I was eight.  However, thanks to Lynne Fardell (a new friend and fellow TT breeder), we are turning my basement into a show ring.  It is really wonderful, when new people pop into your life.  I hadn't realized that my 34′ x 24′ basement could be turned so easily into a show ring with three mirrored walls and a flat screen.  We will begin handling classes soon.  I hope to present my new puppy, Kensington's Nouvelle Mlle. Koko, at one of the New England dog shows in the next couple of months.  We have a 4-6 month puppy class and the 'Owner Handled' Class, and I can compete in either.  If it's one thing we must do as humans, it is to welcome change and do our best to stretch and grow.  That said?  Back into the ring I go.
Toward that end, I am committed to AKC Championship titles being an important part of validating an animal for my (or any) breeding program.  The American Kennel Club is the governing body over canines, if you will, and their stamp of approval is an important one to me.  I believe that every responsible breeder should put their animals out for scrutiny and evaluation by AKC Non Sporting Group judges, without cherry picking the judges.  I am extremely proud to be breeding two beautiful AKC Grand Championship Kensington-bred females: our regal Ziva and the lovely Billie Jean.  They are each terrific examples of the breed, with temperaments that are sweet, predictable and engaging.  As you navigate your way among the Tibetan Terrier breeders out there, note the dates on when the sire and dam have last competed.  Foundation animals having competed twenty years ago just doesn't cut it, in my book.  And wins like 'Best of Breed', 'Best of Winners' or 'Best of Opposite Sex' are MANDATORY, as an animal earns its points and Majors on the way toward the Championship title.
Why We Require Visits:
Tibetan Terriers are brave, athletic, sweet, precocious and engaging.  Here at Kensington, we breed for brains, as well as beauty.  Temperament is number one – health is of utmost importance, as is conformation to the breed standard – and we work hard and smart to help our bred bys develop into emotionally secure, inquisitive and respectful Tibetan Terriers.  They might not be the breed for you, which is why I don't offer any of my animals to first time doggie homes.  Tibetans excel in situations where they've been taught their boundaries and have humans in residence who enjoy their precocious eccentricities.  They can be too much for a first time dog owner.
If, however, you have experience with dogs and you're interested in one of our puppies, please know that we require at least one visit to Stowe from every serious potential forever family, in order for you to meet the pack and for us to meet you.  We feel it creates tremendous value and we want to know that we've found the most terrific forever homes for our kids.  If you live too far away to make the trip?  Perhaps we can refer you to a breeder closer to you with a breeding program we respect and also admire.  Or, perhaps we can SKYPE.  One step at a time.  Our breedings are limited and carefully thought through, every time.

WHAT WE LOOK FOR:
In the meantime and if you're thinking about bringing a Tibetan Terrier into your own home life, you are welcome to call with any questions you might have.  Please know that we receive many more inquiries than we have available puppies.  With this in mind, we now prefer to place our puppies in forever homes who have prior experience living with a Tibetan Terrier OR who have lived with a beloved dog through the elder years and experienced the heartbreak of losing a dog to death.  We do not offer our puppies to families seeking a 'first dog'.

WHAT WE OFFER:
Here at Kensington, our commitment is to breeding friendly, smart, healthy Tibetan Terriers of handsome conformation & balanced movement within the breed standard, with friendly disposition & enthusiastic spirit. We use progesterone testing to time our breedings, genetic testing to manage our blood lines and breed our own AKC Champions selectively, always keeping the 14" – 17" breed standard in mind. While our personal preference is for smaller TTs, every litter offers a range of sizes and it really doesn't matter too much, as adult weights tend to range between 20 and 30 pounds. A Tibetan Terrier of this size is easily managed, whether raised in an apartment with daily walks or in a house with a fenced yard.
It is our commitment to protect the breed standard, using modern science and the best subjective analysis possible.  We genetically test the animals in our breeding program for Neuronal Ceroid Lipofucinosis (NCL/CCL), PLL, Canine Renal Dysplasia (although this Canadian test has been challenged as flawed) and Progressive Retinal Atrophy RCD3 and PRA4.  The lack of these genetic mutations can be described as 'Clear by Parentage' in progeny where both sire and dam proved 'normal' and 'clear' of the mutant gene.  In these cases, we do not test every generation.  In fact, our breeding stock is clear of NCL & PLL and has been since 2010.

It is also important to me to repeat breedings, so as to fully understand what the genetic combinations of sire and dam produce.  I am in no hurry.  Rather, I like to get a really good sense of the variety that a genetic combination will produce, before breeding for a new member of my home pack and breeding program.  Living with more than four dogs becomes stressful for me and so, I like to keep my home pack size small.  I couldn't do what I do, the way that I do it, with more than four or five dogs in residence at a time.  And I'm extremely fortunate to have four sires living with other forever homes, within easy driving distance.  Plus, I couldn't do it, the way that I do it, if I had to work full time.  Instead, I work part time at Fine Wine Cellars in Stowe, spend time in my garden and am available to help my friends, when they need me.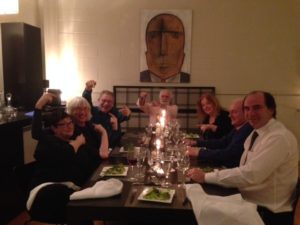 And this past weekend, instead of being at the 2017 World Congress in England?  I was 'knighted' on Saturday night into La Confrerie des Chevaliers du Tastevin.  During the ceremony, I actually had to promise Bacchus that I would honor him and always 'finish' my glass of Burgundy.  This next adventure will no doubt be full of gustatory satisfaction.  ;>)

I am grateful for the privilege of being able to focus on my passion for my dogs, fun in the kitchen with my friends and the occasional dog-free jaunt over the border and up to Montreal – or Boston or Paris.  This is my life and also made possible by my wonderful overnighting doggie au pairs.  The dogs are my companions and I am happily retired, after having had successful careers in real estate, sporting goods manufacturing and the wine industry.

We sincerely believe that a Kensington Tibetan will be one of the healthiest and best socialized TTs you'll find available to you here in the States. The care and special attention we pay to nutrition, socialization and cleanliness set us apart from many other breeders.  We like to keep our puppies until sometime between their ninth and tenth weeks of life, as the last week or two spent with the older animals truly helps them develop good manners.  We live in the heart of the Green Mountains and enjoy terrific terrain and winter views.  In the warmer months, we do water training.  Regardless of season, our puppies will have had solo experience in a variety of crates and different rooms of the house, before they leave.  We also do car training, in an effort to develop secure, confident and inquisitive animals who love going for rides.  Our forever families will happily reference us and we welcome your inquiries.
PUPPIES EXPECTED August 2017:
While we strive to breed puppies for the most wonderful pet homes we can find, we also remain interested in hearing from show homes or from people interested in participating peripherally in my breeding program.  Please share your thoughts and personal histories, when you return your application.

The KENSINGTON Community:
Enjoy your visit to our site.  We welcome hearing from new friends and look forward to the opportunity to answer any questions you might have about the breed or our Tibetan Terriers.  Those answers are often published as blog entries under the 'NEWS' tab on the far right up above.  You  may sign up to receive future postings under the NEWS tab, at the top of that page.  If you're interested in one of our puppies, please DO sign up, as that is where I will post the updates on breedings, whelpings and other things we learn or experience.  There is an application you'll need to fill out that I can email to you, before we can take your interest in a Kensington Tibetan Terrier forward.  Remember, they are NOT terriers and we raise them lovingly in my Vermont home, as though they were our children.
There is an active community of Kensington fans and forever families on Facebook.  You are welcome to search for us there, too.  FB is a great place to seek out other forever families with Kensington puppies.  Doggies love play dates, especially with other Tibetans!
In the meantime, my name is Wendyll Behrend and you may ring me on my cell, should you have questions and a situation you'd like to address now.  Sometimes I have older puppies or dogs available, but sometimes, not.  Try me at: 781.254.9941
Thank you very much for your interest in my Tibetan Terriers.
Woof.  ;>)
RESCUE NEWS:
Camille Manfredonia is our national club rescue coordinator.  If you can open your heart and help our TTCA rescue and placement efforts?  These little furry friends would be grateful.  Please consider reaching out through the web.
http://www.ttca-online.org/html/rescue.html